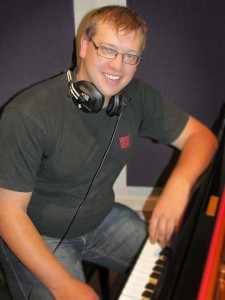 James was born and raised in Launceston, Tasmania.  His mother and father met while working in Papua New Guinea, where they married before settling in Tasmania.  His mother was a missionary teacher from North Dakota in the USA, and his father was a carpenter/builder from Cooee in Tasmania.  James attended the Bethlehem Lutheran Church in Launceston along with his mother and two brothers.
James started learning piano when he was 10 years old.  He competed in numerous Launceston competitions as a solo pianist, as well as in the piano duets section finding some success with his brother David.
At age 13 he started playing for church services and recalls that one of the first songs he ever played in a service was 'Do Lord (Psalm 27)'  by John Ylvisaker.
James also learnt to play the trombone at 11 years old, and went on to play with St Joes Big Band (in Launceston) and the West Tamar Municipal Brass Band.  He commenced singing lessons when he was 15 years old.
James first started composing music for a class assignment when he was in grade 10 and went on to win the Grade 10 Music Award at Kings Meadows High School.
James studied a Bachelor of Applied Science at the University of Tasmania, graduating in 2001 with majors in Chemistry, Computer Programming and a minor in Physics/Electronics.
By the time James was 19 years old, he was performing in amateur musical theatre productions with lead roles in Pirates of Penzance and Trial by Jury with the Launceston Light Opera Society.  He then went on to perform in productions of Annie Get Your Gun and Les Miserables.
During this time, he met his wife Leisa who was also involved in amateur musical theatre productions and a member of the Bethlehem Lutheran Church.  Leisa was working in George Town but was born and raised in country Queensland.  In 2003 they were married, and settled in Brisbane, Queensland, where they continued to share a passion for musical theatre.  While in Brisbane, James studied vocal training with Jason Barry-Smith.
After the birth of his first son Samuel, James retired from the Science field to take up the role of stay-at-home dad.  His second son Lewis was born in 2008.
In 2007, while James was one of the band leaders at St Marks Lutheran Church in Mt Gravatt, he rediscovered his passion for composition. While preparing for Advent, James composed the song 'You Came', which went on to feature in that year's services. Over the next 3 years James continued to write Christian songs.
The family moved in 2010, to Sydney, in search of a Producer who was willing to produce James' debut album.  In this time, the family became active members of the Merrylands Anglican Church.  In mid 2011, James met Ian Pav (PavMusic), a Canberra based Producer and began work on the album.  Over the next 12 months, James and Ian worked on recording the CD.  In December 2011 "You Came" was performed at the Holroyd Carols in the Park by James and the Merrylands Anglican Church band.
In order to raise their children in an environment more like their own childhoods, but with the convenience of proximity to Canberra and Sydney, the family moved to Nowra in early 2012 and now worship at the Bomaderry Anglican Church.  James continues to play for church services.
On 25th August 2012, James launched 'Incredible' at the Bomaderry Anglican Church with a second launch at Merrylands Anglican Church on 15th September 2012.  Over 120 adults attended the launches.
He continues to look after his two boys.
Incredible is James Ebdon's debut album.